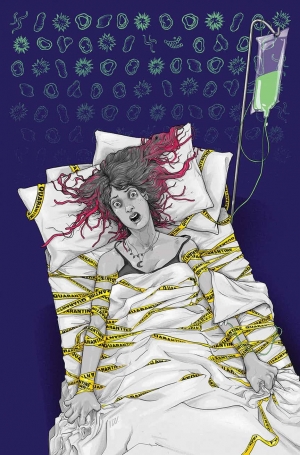 The raves keep coming! Lazretto #3 is our best reviewed issue yet. Here's what folks are saying...
"Lazaretto is an unnerving and heart-breaking experience that plays upon the tropes of the quarantine stories and its endearing characters to craft a truly absorbing tale. It's existentially terrifying, and I highly recommend it to anyone who can stomach it. It's a masterfully crafted social horror story." -- Bleeding Cool
"Shocking, harrowing and utterly captivating... It's great to see Chapman and Levang working together so seamlessly to deliver their deeply uncomfortable vision..." -- Big Comic Page
"Chapman has written a very tight, fear inducing script which draws the reader in and traps them there with the characters. He creates a world that no-one would want to be a part of but makes it almost impossible to walk away from. Add to this the wonderfully disturbing artwork and you have in your hands an infectious, stomach churning comic unlike anything currently on the shelf." -- ComiConverse
Lazaretto "will tear your heart out." -- The Pop Break
"Jey's eye for storytelling is pretty amazing to me. The use of page layouts with their angles, perspective and those backgrounds really bring this to life. It's so strong that it takes your breath away." -- Reading With A Flight Ring
Lazaretto is "downright scary." -- Pop Culture Uncovered
"Levang just creates this lurid, jittery world with inks and colors that seems claustrophobic, hectic and nightmarish. Impressively, frighteningly effective." -- Oregon Live
Lazaretto is "like we're inside a living hallucinatory dream." -- Villain Media
"What keeps Clay McLeod Chapman and Jey Levang's story from cheese is the very human and real friendship between a closeted gay man and a terrified young woman at its center." -- Uproxx (This Week's Best Comics)
"A claustrophobic story... Top notch and rather creepy since it could really happen. -- Graphic Policy (Top Comic Pick of the Week)
Issue #4 will be on the shelves on December 27th. Two days after Christmas! Pinch those pennies and bring them to the comic store!
November 7, 2017
Related:
LAZARETTO #3
---
"(Chapman is) a horror-drunk storytelling virtuoso master idiot. "
— Time Out New York