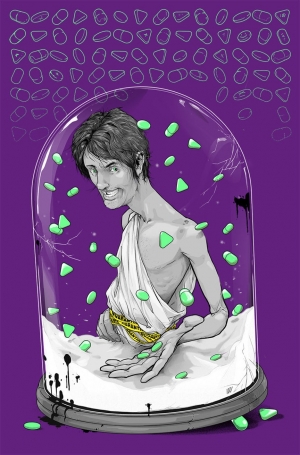 Like a bad cold that won't go away, the positive reviews for LAZARETTO keep dribbling in. Here's what folks have to say about issue #2...
"Chapman uses dark humor to poke at college tropes like class hierarchy, pseudo authority figures, drug culture and libertine sexual attitudes, all of which combine to create a dark and deadly environment... Jey Levang's art (is) creepy as hell." -- Comicon
"A terrifying read, Lazaretto #2 (BOOM! Studios) will frighten readers to the core with its chilling vision of body horror and terror. An ingenious take on zombie movies and Lord of the Flies... Chapman's thought-provoking social commentary will resonate with readers after they finish reading." -- Villian Media
"You can practically feel the virus seeping through each page... Lazaretto will make you want to wash your hands." -- Horror Talk
"Chapman takes the reader into a dark, unpleasant place as he picks away at modern society. Not for the faint of heart, Lazaretto is unapologetic about its disturbing content and refuses to shy away for the degradation of the human spirit... Lazaretto will make you queasy in more ways than one but it is an exceptional example of horror as social commentary." -- ComiConverse
"A stomach-churning body horror hit... With Levang's wicked imagination promising more shock, gore, effluvia and horror this is a series that bears serious watching." -- Broken Frontier (Staff Picks 10/11/17)
Lazaretto is "claustrophobic in all the right ways." -- Graphic Policy's Top Comic Picks this Week!
"What Clay is doing here is pretty awesome... A strong premise with excellent characterization." -- Reading with a Flight Ring
"Chapman and Jey Levang tell the story of a viral apocalypse through the eyes of college kids who either don't understand, or are too afraid to grasp, just what's happening. So instead they throw a party. Really, wouldn't you?" -- Uproxx (Best New Comics list 10/11/17)
Have you picked up this ooey-gooey comic yet? You should... Don't forget the hand sanitizer!
October 17, 2017
Related:
LAZARETTO #2
---
"(Chapman is) a horror-drunk storytelling virtuoso master idiot. "
— Time Out New York