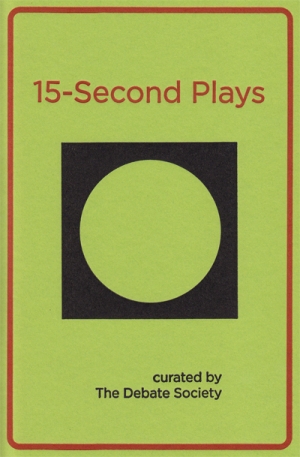 A while back I was invited by the super cool theatre company The Debate Society to write a 15 second play. It'd be included in an anthology of other 15 second plays written by a bunch of really awesome writers. I've done a pretty good job at writing some pretty awful plays in my life, so the notion of whittling away all the bad parts of a play in order to get to that really, really good part seemed like a pretty keen idea to me. Whittle it!
I don't know if this is the right 15 seconds, but these are my 15 seonds… And all fifteen of them are included in this brand new book, aptly titled…
"15-Second Plays curated by The Debate Society."
This is probably the only time in my life I'll ever be included in an anthology with the likes of Annie Baker, Itamar Moses and Reggie Watts, so I'm going to soak up my 15 seconds of fame down to the last drop. Pass the courvoisier.
This beautiful chapbook is published by Ugly Duckling Presse. Here's what they have to say: "The Debate Society asked a group of fellow playwrights and friends to contribute to a chapbook. The stipulation: Write a play intended to last 15 seconds. Contributors include: Annie Baker, Mike Batistick, Adam Bock, Joshua Conkel, Jason Craig, Lisa D'Amour, Ann Marie Healy, Kyle Jarrow, Lally Katz, Kristen Kosmas, Kirk Lynn, Clay McLeod Chapman, Itamar Moses, Donna di Novelli, Sylvan Oswald, Reggie Watts."
And this is what Lisa Kron (!) has to say: "They're tiny, vivid bursts of theatrical imagination. They're crystalline distillations of theatrical essence. They're candid snapshots of 17 distinct theatrical souls. I love this tiny book."
Just in time for Christmas. What a perfect stocking stuffer. To pick up your own copy, click here: http://bit.ly/TBwIF2
December 2, 2012
Related:
15-Second Plays
---
"A deeply eerie and evocative portrayal of what it's like to stare into the abyss and find something there waiting for you. A memorable, disquieting ghost story about stories, rendered inside a Möbius strip."
— Kirkus