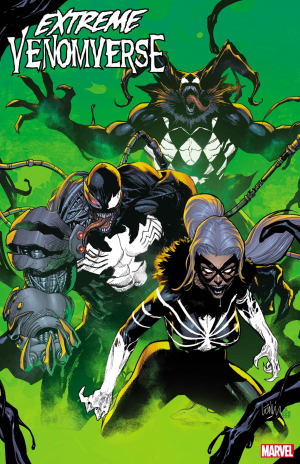 In the same spirit as the recent hit series, EDGE OF SPIDER-VERSE, the series will feature jaw-dropping turning points for iconic characters like Eddie Brock and Dylan Brock and show never-before-seen Venoms bear their fangs for the very first time! But these epic adventures are spiraling towards an explosive destination, the DEATH OF THE VENOMVERSE, and whether your favorite new symbiotes will survive this summertime saga remains to be seen…
Right now, get a taste of the stories that await in EXTREME VENOMVERSE #2, on sale in May!
Venom scribe Al Ewing and artist Vincenzo Carratù (Mary Jane & Black Cat) unite to tell a purrfect tale about your favorite cat burglar and a certain heist she may have pulled on Marvel's First Family! Witness what happens when Felicia Hardy slips into her very own symbiote!
Revisit MARVEL: 1602, with Clay McLeod Chapman and Paul Davidson, as they introduce the creepiest Venom EVER!
David Pepose and Ken Lashley introduce you to the twist L.M.V.—LIFE-MODEL VENOM! Cyborg Spider-Man, eat your heart out!