Clay McLeod Chapman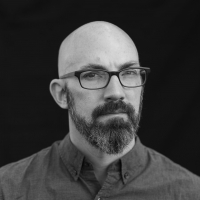 "Like a demonic angel on a skateboard, like a resurrected Artaud on methadrine, like a tattletale psychiatrist turned rodeo clown, Clay McLeod Chapman races back and forth along the serrated edges of everyday American madness, objectively recording each whimper of anguish, each whisper of skewed desire. This is strong stuff, intense stuff, sometimes disturbing stuff, but I think the many who admire Chuck Palahniuk will admire Chapman as well."—Tom Robbins, author, Still Life with Woodpecker
Clay McLeod Chapman is the author of novels Ghost Eaters, Whisper Down the Lane, The Remaking, and miss corpus, story collections nothing untoward, commencement and rest area, as well as The Tribe middlegrade series: Homeroom Headhunters, Camp Cannibal and Academic Assassins.
His new novel, What Kind of Mother, arrives on September 12, 2023.
Upcoming projects include Quiet Part Loud, a 12-part horror podcast series from Jordan Peele and Monkeypaw Productions, written by Chapman and Mac Rogers, exclusively on Spotify beginning on November 15, 2022.
Chapman's story late bloomer was adapted into a short film, directed by Craig William Macneill. An official selection at the 2005 Sundance Film Festival, the short won Best Short at the Lake Placid Film Festival and the Brown Jenkins Award at the 12th Annual H.P. Lovecraft Film Festival.
Their second short, Henley, based on the chapter "The Henley Road Motel" from Chapman's novel miss corpus, was an official selection at the 2012 Sundance Film Festival. It won Best Short at the 2011 Gen Art Film Festival and the 2011 Carmel Arts and Film Festival. The Boy (SXSW 2015), a feature-length adaptation of Henley, co-written with director Macneill, was produced by SpectreVision (Elijah Wood, Daniel Noah, and Josh C. Waller) in 2015.
In comics, Chapman is the writer of the Marvel series Scream: Curse of Carnage. He has written Absolute Carnage: Separation Anxiety, Iron Fist: Phantom Limb, Typhoid Fever, as well as for Edge of Spider-Verse and Venomverse, The Avengers, Amazing Spider-Man, Ultimate Spider-Man, American Vampire, Scream: King In Black, and ORIGINS among others.
He is the creator of Self Storage (451 Media) and Lazaretto (BOOM! Studios).
Chapman is the creator of the rigorous storytelling session The Pumpkin Pie Show. In the twenty years of its existence, it has performed internationally at the Romanian Theatre Festival of Sibiu, Edinburgh Fringe Festival, New York International Fringe Festival, Winnipeg Fringe Festival, Edmonton Fringe Festival, Minnesota Fringe Festival, Dublin-based thisisnotashop art space, IGNITE Festival, Women Center Stage Festival and Impact Theatre Festival.
Chapman wrote the book for Hostage Song (music & lyrics by Kyle Jarrow). He is the author of such plays as commencement, the cardiac shadow and volume of smoke. His story-monologues birdfeeder, undertow and the wet echo have been featured in The Best American Short Plays anthologies.
Chapman was educated at the North Carolina School of the Arts for Drama, the Burren College of Art, and Sarah Lawrence College. He currently teaches writing at The Actors Studio MFA Program at Pace University.
---
2022
1996
2023
2022
2021
2020
2019
2018