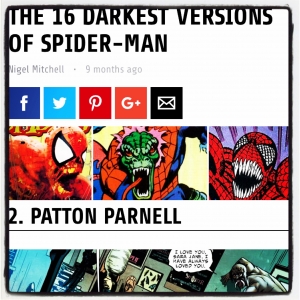 Whoa! I just found out Comic Book Resources listed our Spider-Man redux #2 on their "16 Darkest Versions of Spider-Man" list. Me and Elia Bonetti created the second darkest Spider-Man ever in the whole wide world for our Edge of Spiderverse issue!
Here's what they had to say…
"In the 2014 miniseries, Edge of Spider-Verse, we saw alternate versions of Spider-Man characters and Edge of Spider-Verse #4 (Clay McLeod Chapman, Elia Bonett) was a horrific take on the Spider-Man origin. Instead of Peter Parker, it was Patton Parnell who lived with his cruel Uncle Ted instead of Aunt May and stalked his next-door neighbor, Sarah Jane. When he visited the labs of Alcorp Industries, he was bitten by an experimental spider.
If that sounds familiar, what happened next isn't. Instead of turning into a superhero, Parnell started webbing and eating people, including his Uncle Ted. He bit Sarah Jane before turning into a monster that was drained by the vampiric Morlun. Instead of a happy ending, the next morning we saw hundreds of baby spiders coming out of Sarah Jane's neck. Parnell was what Spider-Man would be like if he had been a monster."
We're number two! We're number two!
April 25, 2018
Related:
Edge of Spider-Verse
---
"A deeply eerie and evocative portrayal of what it's like to stare into the abyss and find something there waiting for you. A memorable, disquieting ghost story about stories, rendered inside a Möbius strip."
— Kirkus