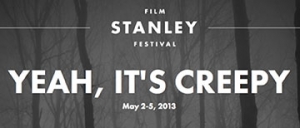 I'll be performing at The Overlook Hotel. The one and only hotel from The Shining.
You heard me right. The 1st Annual Stanley Film Festival is taking place in the hotel that inspired Stephen King to pen his classic novel. I can't believe this is happening, but I've hit the performance/literary/cinema trifecta… Not only will our film HENLEY be screening in part of their shorts program, but THE PUMPKIN PIE SHOW will be performing in the haunted halls of the hotel itself. And not only that! I'll also be presenting a family-friendly reading of my new middlegrade novel HOMEROOM HEADHUNTERS. I'm going out of my mind.
Heeeeeeeeeeeeeere's Clay!
The Hollywood Reporter did a little write-up on the festival with a mention of me. You can read about it here: http://bit.ly/Z6vJzz
The hotel plays Kubrick's The Shining on constant 24/7 rotation in room #237. I'm so in. I have died and gone to haunted hotel heaven.
About the fesitval: "The Stanley Film Festival showcases classic and contemporary independent horror cinema all set at the haunted and historic Stanley Hotel in beautiful Estes Park, Colorado. The Festival presents emerging and established filmmakers enabling the industry and general public to experience the power of storytelling through genre cinema. Founded in 2013 by The Stanley Hotel to celebrate the property's iconic Hollywood heritage, the four-day event showcases filmmakers latest works, Q&A discussions, industry panels, the "Stanley Dean's Cup" student film competition, and special events for cinema insiders and fellow artists."
For info on The Pumpkin Pie Show: http://bit.ly/Z6uUXA
For info on Homeroom Headhunters: http://bit.ly/17paGfi
For info on Henley: http://bit.ly/Z6v0hU
All work and no play makes Clay a dull boy all work and no play makes Clay a dull boy all work and no play makes Clay a dull boy all work and no play makes Clay a dull boy all work and no play makes Clay a dull boy all work and no play makes Clay a dull boy all work and no play makes Clay a dull boy all work and no play makes Clay a dull boy…
April 9, 2013
Related:
The Pumpkin Pie Show
---
"A deeply eerie and evocative portrayal of what it's like to stare into the abyss and find something there waiting for you. A memorable, disquieting ghost story about stories, rendered inside a Möbius strip."
— Kirkus