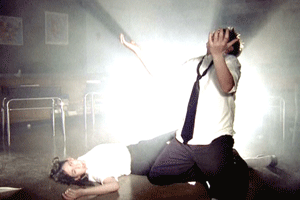 Our short film LATE BLOOMER, directed by Craig Macneill, written and narrated by yours truly, took top honors out in Los Angeles at the 2012 box[ur]shorts film festival.
Not only did we win Best Short Film, but we walked away with the Audience Award as well.
You can read about the nominees and winners here: http://bit.ly/wwdJOP
Box[ur]shorts are apparently these crazy jukeboxes planted in bars all around the world. Rather than plopping in some money for a song, you can select a short film to watch. LATE BLOOMER has been one of fifty shorts you can view while inebriated. Of those fifty, ten were selected to compete. There was a juried prize and an audience prize. Somehow, miracle upon all miracles, LATE BLOOMER won both. Not bad, my friends. Not bad at all.
The crazy thing is, Craig made LATE BLOOMER back in 2004. We hit the festival circuit that year. The film has screened at some pretty amazing spots, winning a few awards here and there, finally making it all the way to the 2005 Sundance Film Festival. We figured that would be the end of it. It's a pretty old movie now. But the thing just won't die. It just won't die! Craig uploaded LATE BLOOMER to Youtube last year and we're close to a half a million hits. Those aren't Rebecca Black "Fridays" kind of numbers, I know… But for a short film that's nearly a decade old, it's definitely a shot in the arm for us.
Thanks to everybody at box[ur]shorts for putting our ode to HP Lovecraft in dive bars everywhere. The next time you're at your local watering hole and you're about to slip a dollar in the ol' jukebox, if you happen to see one of these bizarro film-contraptions… consider giving Don McLean's "American Pie" a rest and giving your fellow patrons the gift of film instead.
March 11, 2012
Related:
Late Bloomer (short)
---
"A deeply eerie and evocative portrayal of what it's like to stare into the abyss and find something there waiting for you. A memorable, disquieting ghost story about stories, rendered inside a Möbius strip."
— Kirkus