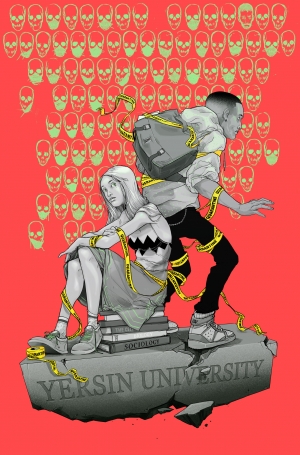 With 2017 (finally) behind us, we took a glance in the rear-view mirror and spotted Lazaretto cropping up on a few Top 10 lists. Not only… Members of our creative team either won or were nominated for their kick-assery. Check it:
VILLAIN MEDIA'S TOP 10 COMIC BOOKS LIST OF 2017:
#4: LAZARETTO: "With a clever title, writer Clay McLeod Chapman and artist Jey Levang examine a college where everybody is trying to find their own identity. In a terrifying twist, a deadly virus reveals the worst between men and women."
TEAM GEEK'S FAVORITE COMICS OF 2017:
"I've read so many different comics this year, but the one that has stood out for me this year has to be Clay McLeod Chapman and Jey Levang's Lazaretto. The story is a cross between Lord of the Flies meets Contagion, allowing you to feel claustrophobic, disgusted and extremely uncomfortable, but that's the point! Chapman and Levang keep you invested in the characters and their journey to keep reading. They create a scenario that's horrifying and can very well happen but twists it. You never knew what steps anyone will take to the series. You never know what these humans will do. This comic completely puts you on edge and allows you to come into a great story, but also skeeves you out in the best ways. Chapman doesn't hold back with his college narrative that's a little slice of life underneath, and Levang doesn't hold back with how sickening he can make it look."
2017 BROKEN FRONTIER AWARDS: BEST LETTERER
Aditya Bidikar received the 2017 Broken Frontier Award for Best Letterer on his work for Lazaretto, Paradiso and Kid Lobotomy. Congratulations, Aditya!
(Also a huge congrats to illustrator Jey Levang for being nominated in the Breakout Talent category for their work on Lazaretto. Much deserved!)
MULTIVERSITY COMICS 2017 CREATORS YEAR IN REVIEW:
What creators weren't on your radar before 2017, that you are fans of now?
"Clay McLeod Chapman ("Lazaretto"): This is a total cheat, I know, but… Jey Levang. It wasn't until our editor, Eric Harburn, suggested them for "Lazaretto" that I got my hands on a copy of their indie-comic HELL(P) and I was totally smitten from that point on. I will follow Jey in whatever they do next and pray we get to work together again. I'm a complete convert."
Thanks to everyone who picked up our little icky comic… We couldn't have done it without you! And don't forget: One more issue to go! Pick up #5 at the end of the month to see how it all wraps up. It ain't gonna be pretty.
January 1, 2018
Related:
LAZARETTO #1
---
"A deeply eerie and evocative portrayal of what it's like to stare into the abyss and find something there waiting for you. A memorable, disquieting ghost story about stories, rendered inside a Möbius strip."
— Kirkus