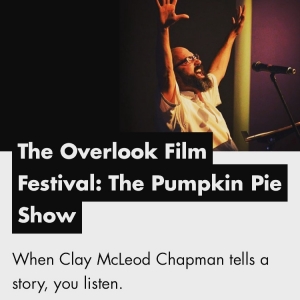 The Pumpkin Pie Show was fortunate enough to have been invited to perform at the first annual Overlook Film Festival in Oregon this last weekend. The fine folks at Birth.Movies.Death just so happened to attend, and we were super surprised to find this lovely little write up about our show:
"Chapman is doing something that feels new and present and his particular brand of alchemy both needs and deserves an audience."
Thanks so much, BMD! It's a total honor… Let's do it again soon!
To read the full review, click here.
May 2, 2017
Related:
The Pumpkin Pie Show
---
"A deeply eerie and evocative portrayal of what it's like to stare into the abyss and find something there waiting for you. A memorable, disquieting ghost story about stories, rendered inside a Möbius strip."
— Kirkus