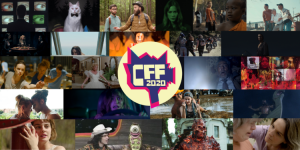 No bug is gonna keep the 2020 Chattanooga Film Festival down! This year, everything is going… virtual! This revolutionary online genre festival includes a lineup of electrifying and provocative features, shorts, events, and surprises, including notable guests: Ernest Dickerson, Joe Bob Briggs, Alex Winter, and… THE PUMPKIN PIE SHOW!?
The Chattanooga Film Festival (CFF) along with its presenting sponsor Gunpowder & Sky's ALTER and media partner Bloody-Disgusting.com, are thrilled to announce their innovative lineup of features, panels and live events set for May 22 to May 25. In unprecedented times, the festival is offering a full-access badge price of $30 and divvying up a portion of the proceeds back to participating filmmakers.
CFF 2020 will see the triumphant return of screenwriter and author Clay McLeod Chapman, who will be back to present THE PUMPKIN PIE SHOW, an event that was without a doubt the sleeper hit of last year's festival. Chapman will also conduct a writer's workshop.
5/23 at 11 AM: THE PUMPKIN PIE SHOW: For more than 20 years, author Clay McLeod Chapman and performer Hanna Cheek have offered a view into the minds of the most depraved Southern Gothic monstrosities with The Pumpkin Pie Show. Sometimes darkly humorous, sometimes strangely heartbreaking, and most definitely always in-your-face, these tales of madness and macabre explore the domestic horrors of the everyday, finding terror within our very own households. This one-of-a-kind performance delves deep into the darkest recesses of those madmen and women who drift along the periphery of humankind. Don't miss it!
5/24 at 11 AM: WRITING/STORYTELLING WORKSHOP WITH CLAY McLEOD CHAPMAN: Come join Clay McLeod Chapman, author of The Remaking and Marvel Comics' ongoing series Scream: Curse of Carnage, to discuss the hunting and gathering of new narrative material to tell our own spooooky stories. Whether it's for film or fiction, comics or something even crazier, this workshop lays down a very simple foundation for spinning out a yarn around the campfire, no matter what the medium may be.
For more info about the fest and how to get tickets, click here: https://www.chattfilmfest.org/
May 14, 2020
Related:
The Pumpkin Pie Show
---
"A deeply eerie and evocative portrayal of what it's like to stare into the abyss and find something there waiting for you. A memorable, disquieting ghost story about stories, rendered inside a Möbius strip."
— Kirkus