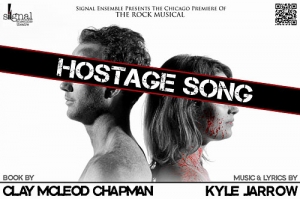 When it rains, it pours. Two of my personal fave plays are popping up across the country this month. HOSTAGE SONG has its Chicago premiere tonight, courtesy of Signal Ensemble—while next week, Hanna Cheek delivers COMMENCEMENT for a special presentation in LA.
HOSTAGE SONG
Bound and blindfolded in a war-torn country, two hostages take refuge in music, memory and each other in the Chicago premier of this provocative indie-rock musical. The New Yorker called it "A high-decibel romantic comedy with a seriously unnerving edge" and Time Out New York called it "A devastatingly poignant, strangely philosophical meditation on salvation that just happens to sport a sick downbeat." Stories and book by Clay McLeod Chapman, music and lyrics by Kyle Jarrow, and directed by Ronan Marra.
For more info, click here: http://bit.ly/yfvWhZ
COMMENCEMENT
The Daniel Stern Studio is presenting a special one-night only performance of Commencement in Los Angeles. Hanna Cheek has performed this one woman show for years, touring throughout North America, culminating in a sold out run in NYC. Commencement explores three women as they grapple with fear, grief and ultimately growth that comes in the aftermath of a tragic event. Come see the show that SEE Magazine says "...will leave you wringing your hands in helpless empathy." Fair warning: Hanna will destroy you.
For more info, click here: http://on.fb.me/IUdqEQ
Feeling pretty blessed at the moment to have these shows out there in the world. Hostage Song was a labor of love for a lot of my friends when we performed it here in NYC—so now that other companies are starting to produce it elsewhere, it's hard not to get a little sentimental. Who knows? Maybe one day, we'll bring it back to the Big Apple…
Commencement, too. Seeing Hanna tackle three different characters in the course of a one-hour show, how she moves fluidly from one polar opposite personality to the next… I swear. Blows my mind every time.
If you have friends in either Chicago or Los Angeles, please—spread the word! Well worth your time, I promise.
May 5, 2012
Related:
Hostage Song
---
"A deeply eerie and evocative portrayal of what it's like to stare into the abyss and find something there waiting for you. A memorable, disquieting ghost story about stories, rendered inside a Möbius strip."
— Kirkus