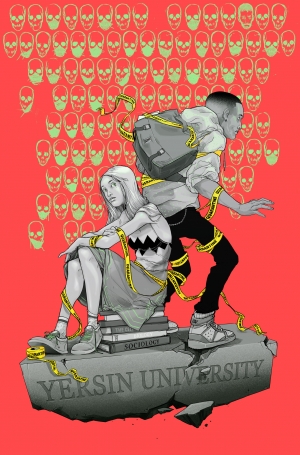 The reviews are in for issue #1 of Lazaretto and by all accounts it's the grossest, craziest, freaky-deakiest thing you'll ever read. But don't take my word for it! Check out what these folks had to say…
"A masterclass in pacing and characterization… capable of shocking the reader out of their complacency."—Broken Frontier
"A gripping and horrifying opening chapter of what promises to be one hell of a new series."—Big Comic Page
"Leaves you holding your breath and gasping for air… Utterly brilliant."—Geek.com
"Chapman brings his unique writing style to something so completely different. A must-read for every comic book fan."—Outright Geekery
"Chapman delivers a well-timed script that is every freshman and parent's worst nightmare."—Comicon.com
"I found every page to be oozing with compelling details and mile-high tension."—Multiversity Comics
Lazaretto is "violent, bloody, and disturbingly horrific."—ComicConVerse
"An excellent mix of horror, suspense, and a bit of the college melting pot."—Graphic Policy
Lazaretto "will make an agoraphobic out of you… you'll want to take a shower immediately after reading it."—Horror Talk
Lazaretto is "like when you realize what sending the family dog to live on a farm really meant."—Nerdspan
Lazaretto is "about people finding themselves as individuals as well as society as they band together to survive."—OmniComic
"Simply extraordinary… Everything you want from an opening issue and more."—SnapPow.com
"Jey Levang's art manages to communicate both delicate human emotion and flat-out grossness with equal aplomb. It's a fascinating idea, off to a great start."—Uproxx
"Relatable characters and art that matches the book's harrowing tone have set the stage for a disaster story with a horror slant."—Geekery Magazine
"Definitely thumbs up, but don't eat before reading."—Biff Bam Pop!
"Grotty" becomes "literally blood-smeared, violent, ambulant plague-carrier." This is issue one of five, so if you like a good epidemic panic story, get it in now for some autumn-winter monthly fun."— Women Write About Comics
"The issue has a wonderfully smooth flow thanks to the strong writing. Each character in the issue has a clearly defined personality… The dialogue is a highlight and keeps the story moving along. The art style has a great human, analog look to it."— Comics Crusaders
"Like some sort of weird horror movie it also reads a lot like a Micheal Crichton novel… This combination makes for some stellar reading that will thrill, entertain and amaze readers."—Reading with a Flight Ring
"Chapman [succeeds] in creating a feeling of isolation in a sea of people. The overwhelming demands on time and involvement for a person trying to figure out who they are and want to be are wonderfully captured."—Geeks Worldwide
"Chapman introduces this flu slowly but assuredly, like a good horror movie. You know it's coming, but you're at the stage where you're simply paying attention to the details until the other shoe drops. Given how lazy, irresponsible, and immature freshmen college kids are it's no wonder a terrible flu takes hold of the school. Chapman writes this in such a way that's believable."—Adventures in Poor Taste
...And that's just a taste! Honestly, you should just pick up #1 and judge for yourself. Issue #2 hits the shelves October 11th!
September 24, 2017
Related:
LAZARETTO #1
---
"A deeply eerie and evocative portrayal of what it's like to stare into the abyss and find something there waiting for you. A memorable, disquieting ghost story about stories, rendered inside a Möbius strip."
— Kirkus