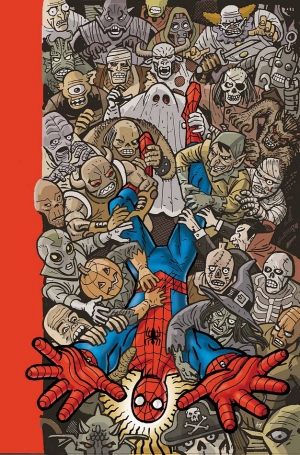 It's an awesome day. Last year, I announced that I had started writing for Marvel Comics. At long last, I'm totally psyched to shout it out from the mountain top that my first Spider-Man storyline will officially be released this October in Marvel Universe ULTIMATE SPIDER-MAN #7.
Today was Marvel's solicitations for their entire October line, which features MU/USM issue #7 along with its kick-ass cover. Here are the details for my story:
Marvel Universe ULTIMATE SPIDER-MAN #7
JACOB SEMAHN AND CLAY MCLEOD CHAPMAN (W)
NUNO PLATI AND RAMON BACHS (A)
COVER BY TY TEMPLETON
• The smash Disney XD hit webs its way right out of your TV!
• It's Halloween gone haywire! Can Spidey stop the costumed chaos?
• And then! Can Spider-Man save Peter Parker's greatest enemy from being held hostage in a hostile high school haunting?
32 PGS./All Ages ...$2.99
If you want to read more online, click here: http://bit.ly/OupVax
In the Halloween spirit, my story THERE'S A GHOST IN MY LOCKER is all about our young Peter Parker making the discovery that his locker is haunted by the ghost of a dead freshman. Just in time for the holidays!
This is a total dream come true. You better believe I'll have updates the closer to October we get. Until then, start saving those pennies kids!
July 10, 2012
Related:
ULTIMATE SPIDER-MAN #7
---
"A deeply eerie and evocative portrayal of what it's like to stare into the abyss and find something there waiting for you. A memorable, disquieting ghost story about stories, rendered inside a Möbius strip."
— Kirkus