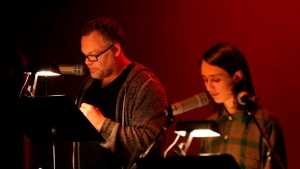 Glass Eye Pix posted some great shots from opening night of "Tales from Beyond the Pale." The evening at Dixon Place was documented by filmmakers (and pals) Noah Greenberg and Craig Macneill, capturing our live performances of Joe Maggio's "Ram King" and my very own "Like Father, Like Son" with none other than Larry Fessenden and Vincent D'Onofrio starring.
Plus there are a few shots of me hosting my lil' heart out. Thanks, Noah and Craig. To see the full set of photos, click here: http://bit.ly/Q0VhbT
There are three more evenings of bone-chilling "Tales from Beyond the Pale" coming up throughout October, so venture on out to see us!
October 5, 2012
Related:
Like Father, Like Son
---
"A deeply eerie and evocative portrayal of what it's like to stare into the abyss and find something there waiting for you. A memorable, disquieting ghost story about stories, rendered inside a Möbius strip."
— Kirkus