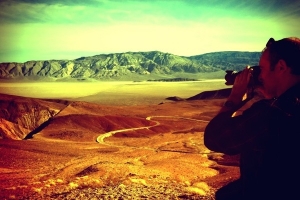 Last year, good pal Jim Kane asked me if I'd write a short film for him and his filmmaker friends about a bunch of guys getting stranded in the middle of Death Valley.
How can you turn an offer like that down? I banged out a script and now you have…
PANAMINT
Jim and crew are looking to raise a little bit more of their budget, going the good ol' crowd-funding route. They put together an IndieGoGo profile for the project, which you can find here: http://bit.ly/ygZCcm
Here's what the profile page says:
"We are Los Angeles filmmakers looking to further fund our project; a short film written by Clay McLeod Chapman, story by Jim Kane. Relying on directions from a GPS device in their vehicle, four friends are stranded for days in a remote area of Death Valley. Panamint is a suspenseful short film inspired from true stories of what can happen when you get lost in a desert with over 3 million acres of wilderness and temperatures above 125 degrees."
Sounds like fun, no? I'm a huge fan of Gus van Sant's "Gerry," so this is my frat-boy homage to his slow burning masterpiece. Who wouldn't want to fund something like that? Plus, if you shell out the big bucks, apparently you win a date with the director. Classy.
So help some LA actors achieve their dreams, will ya?
February 22, 2012
---
"A brutal and rewarding first novel… Chapman's landscape often resembles the gothic terrain of Flannery O'Connor or the early works of Cormac McCarthy."
— Amazon.com editorial review