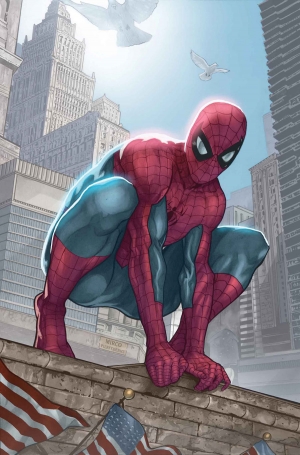 Marvel announced their December solicitations today (as in just now), which means I can finally announce that I've got a story in AMAZING SPIDER-MAN! I wrote for Amazing Spider-Man!
My story, "12 O'Clock High" is a loving homage to my favorite 80's movies of all time. I'll see if you can guess which one.
This is a total total dream come true. I'm completely over the moon for Javier Rodriguez. His artwork has turned my story into a work of art. It's beautiful. December can't get here fast enough. Reserve your copies now! Order fifty! You better believe I am. They'll make awesome stocking stuffers!
Here are the details…
AMAZING SPIDER-MAN #700.3 & #700.4
JOE CASEY, JEN VAN METER & CLAY McLEOD CHAPMAN (W)
TIM GREEN, EMMA RIOS & JAVIER RODRIGUEZ (a)
Covers by PASQUAL FERRY
#700.3 VARIANT COVER BY JOHN TYLER CHRISTOPHER
#700.4 VARIANT COVER BY MIRCO PIERFEDERICI
• Continuing the special celebration of THE ORIGINAL SPIDER-MAN from Man of Action's Joe Casey & Tim Green (AVENGERS ACADEMY)!
• What is the Black Lodge? And how has Spider-Man been trapped there, surrounded by his deadliest foes? Then, the Black Cat and Spider-Man team-up to bust an international art thievery ring in CAT & MOUSE by Jen Van Meter (CAPTAIN MARVEL) and Emma Rios (SPIDER-MAN).
• Finally, a young boy must learn he can't rely on super heroes like Spider-Man to stand up against bullies in 12 O'CLOCK HIGH by Clay McLeod Chapman (AVENGERS: EARTH'S MIGHTIEST HEROES) and Javier Rodriguez (DAREDEVIL).
For more info on Marvel's December solicitations, click here: http://bit.ly/1aF9hpr
September 12, 2013
Related:
AMAZING SPIDER-MAN
---
"A deeply eerie and evocative portrayal of what it's like to stare into the abyss and find something there waiting for you. A memorable, disquieting ghost story about stories, rendered inside a Möbius strip."
— Kirkus