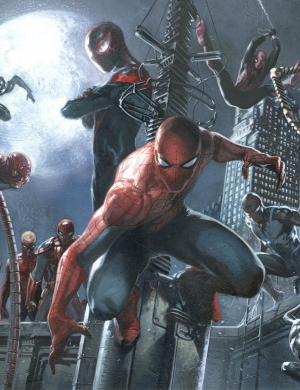 It's official! Comic Book Resources just made the announcement… So I can too:
"Marvel's upcoming "Spider-Verse" event is set to start in November 2014, but the publisher is first setting the table in September and October with the five-issue "Edge of Spider-Verse" series. Each issue will be by a different creative team, and focus on a different alternate universe Spider-Man."
For more, click here: http://bit.ly/1pMckT3
EDGE OF SPIDER-VERSE #4
Written by Clay McLeod Chapman. Art and Cover by Garry Brown.
· A radioactive spider bites a high school nerd who is already something of a monster. Horror writer Clay Mcleod Chapman takes you to a universe where the story you know becomes as horrific as possible.
Issue #4 will his the shelves this October. Just in time for Halloweeeeeeeeeeeeeeeeeeeeeeeen!
June 6, 2014
Related:
Edge of Spider-Verse
---
"This remains a 5 star book. There has been no dip in quality since the first page of issue one. Outstanding book."
— Comics Crusaders