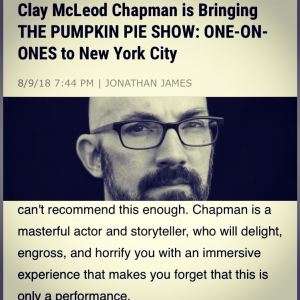 It's time. The Pumpkin Pie Show: ONE-ON-ONES is coming to New York City. For six weeks, starting in September, I will be performing to one audience member at a time.
From our press release:
"For 20 years, Chapman's rigorous storytelling session The Pumpkin Pie Show has delved deep into the depraved minds of those who drift along the periphery of humankind. For his new show, One-On-Ones, he will take one audience member at a time on a dark ride through the domestic horrors of the everyday, finding terror within our own households. Sometimes darkly humorous, sometimes strangely heartbreaking, this intimate storytelling experience is Edgar Allan Poe for the modern age; a heart-to-bleeding-heart with a motley crew of madmen, murderers and monsters all dying to tell their story. No fourth wall, no escape."
Ever hear of seven minutes in heaven? This is twenty minutes in hell…
If this sounds like something you could endure, click here for show details and where to buy tickets. Daily Dead announced the show today. You can read their coverage about the show by clicking here.
August 9, 2018
Related:
The Pumpkin Pie Show
---
"A deeply eerie and evocative portrayal of what it's like to stare into the abyss and find something there waiting for you. A memorable, disquieting ghost story about stories, rendered inside a Möbius strip."
— Kirkus