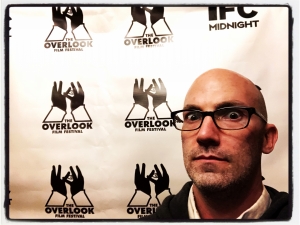 The Pumpkin Pie Show rose from the dead for a special run at this year's Overlook Film Festival. We brought new and old tales and our one-on-ones to New Orleans… and some lovely folks wrote nice things about it. Here's what they said:
"Another major staple thus far of the fest has been The Pumpkin Pie Show by creator, writer, and performer Clay McLeod Chapman (Co-writer of 2015's The Boy). Described as a sort of Edgar Allan Poe for the modern age, Chapman is a storyteller like no other, relaying tales of terror from the seemingly mundane to Gothic monstrosities that pour out of him as if possessed from beyond." —Bloody Disgusting
"A beautiful 20 minutes of human connection." —Filmmaker Magazine
"What happens when you take a delightfully talented (and somewhat twisted) actor/writer who's used to performing in packed theaters and give him an opportunity to entertain just one person at a time? Pure macabre magic. Sitting face-to-face with Clay McLeod Chapman alone on stage in New Orleans' Le Petite Theater as he transforms in the span of 15 minutes from the nicest guy at the festival to a monster who may-or-may-not have just murdered his daughter is a stunningly eerie sight to see." —No Proscenium
"The Pumpkin Pie Show: One-on-Ones proved to be a stunningly personal experience. As its name suggests, this performance was literally one actor with one audience member, an extremely limited experience during the festival. That actor is the incredibly versatile Clay McLeod Chapman, whose one-man show is entirely free of costumes, makeup, lighting, music, set pieces… or anything other than himself. And yet, it is completely immersive thanks to his brilliant storytelling skills. Armed with a variety of his own dark writings that bring to mind the classic tales of Edgar Allen Poe, Chapman transforms before participants' eyes through his acting abilities alone, delivering a performance that's impossible not to become entranced by." —Inside the Magic
"There were too many other fun events, parties, and activities to list them all, but a quick mention for both Clay McLeod Chapman and his Pumpkin Pie live storytelling show, and for Grady Hendrix and his Paperbacks from Hell event. These guys are super talented and if you have a chance to see either one of them, don't miss it!" —Screen Anarchy
"Clay McLeod Chapman is a genius storyteller. Full stop. From performing in front of a large crowd, to intimate one-on-one performances, Clay's ability to transport audiences deep into the heart of his stories is nothing short of remarkable." Here's an interview with No Proscenium at the Overlook Film Festival where I talk and talk and talk and talk and talk and talk and talk and talk and talk and talk and talk and talk and have no chin. Check it out here.
April 29, 2018
Related:
The Pumpkin Pie Show
---
"A deeply eerie and evocative portrayal of what it's like to stare into the abyss and find something there waiting for you. A memorable, disquieting ghost story about stories, rendered inside a Möbius strip."
— Kirkus