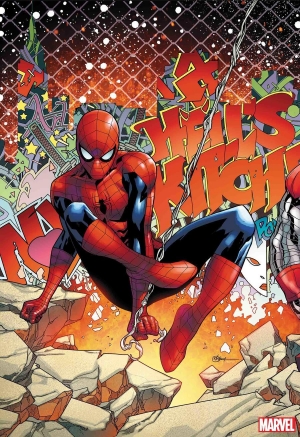 Marvel just announced a new 3-part event series called TYPHOID FEVER! Guess who's writing it? I'm tackling one of the best, bad-assed baddies around: My queen Typhoid Mary! Here's what my editor Devin Lewis had to say:
"Typhoid Mary has one of the most dangerous powersets in the Marvel Universe – and writer Clay McLeod Chapman (EDGE OF VENOMVERSE) is determined to use those powers in ways we've never seen before. Pyrokinesis, telekinesis, and mind control… and that's all in the first scene! Wait'll you see what else Clay has planned, and what artist Stefano Landini has done with the script for TYPHOID FEVER: SPIDER-MAN!"
First up, we're putting Mary against none other than your friendly neighborhood Spider-Man! TYPHOID FEVER: SPIDER-MAN #1, written by Clay McLeod Chapman with art by Stefano Landini, hits shelves Oct 3!
To read more from Marvel about Typhoid Fever, click here. Comics Beat broke the story here, while Bleeding Cool and Newsarama also cover the announcement. Check it out!
July 18, 2018
Related:
TYPHOID FEVER: SPIDER-MAN #1
---
"Ripped me into little tiny shreds, but I would see it again and again."
— Time Out New York