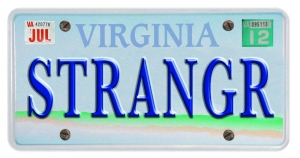 Playbill wrote an article today about an industry-only developmental reading for this musical I've been writing the book for (re)titled STRANGER. We are about to embark upon a ten-day long rehearsal-odyssey, presenting a double-header event on March 20th at the brand spanking new Signature Theatre.
To read the Playbill story, click on over here: http://bit.ly/AtHp3X
Then Broadway.com wrote about it too over here: http://bit.ly/A3noL5
The production has an intimidating roster of talented people involved. Rack up those Grammys, Hornsby. Count all those Tony awards. John Rando. Kim Grigsby. Scott Wise. Darrel Maloney. Robert Weirzel. Jennifer Caprio. And…
...Me.
But that's not why I'm writing you now. There's something far more pressing:
You won't find a bigger fan of HALLOWEEN II than me. I dare you to try. You will fail. Trust me. So. Consider the utter elation I felt when I learned that Lance Guest, star of the 1981 sequel to John Carpenter's classic, would be playing the title role for our lil' Hornsbical. You Broadway babies may know Guest from his turn as Johnny Cash in Million Dollar Quartet—but to me, he'll always be "Jimmy," the clumsy paramedic who takes a pratfall through a puddle of some dead nurse's blood all for the love of Jamie Lee Curtis.
And let's not forget Guest's star-turn in THE LAST STARFIGHTER, either. Or JAWS IV: THE REVENGE, opposite Michael Caine. I am a fan fan fan.
Rehearsals start on Monday. The question(s) I keep asking myself is… How long can I last before breaking down and asking Guest about life on the set of HALLOWEEN II? Or working with Catherine Mary Stuart? Or Nick Castle? Or what was up with Mario van Peebles bizarro Jamaican accent in JAWS?
And then how long do you give me before I'm fired from the show for bringing it up?
March 7, 2012
Related:
SCKBSTD
---
"A deeply eerie and evocative portrayal of what it's like to stare into the abyss and find something there waiting for you. A memorable, disquieting ghost story about stories, rendered inside a Möbius strip."
— Kirkus