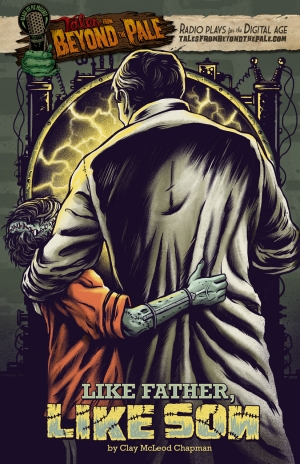 Glass Eye Pix, the maverick production company responsible for a vast slate of captivating independent genre movies including THE LAST WINTER, I SELL THE DEAD, THE HOUSE OF THE DEVIL, STAKE LAND and THE INNKEEPERS, has announced the wide release of the highly anticipated second season of their sensory rich genre audio dramas TALES FROM BEYOND THE PALE.
I was fortunate enough to have been invited to contribute a script for the series, writing a touching family story titled LIKE FATHER, LIKE SON. It features the voice talents of Larry Fessenden, Vincent D'Onfrio, and many others… It's a heartwarming tale about a father who will do anything to keep his family together. And I mean anything.
Season two of TALES FROM BEYOND THE PALE will be available for purchase/download at the TALES online store beginning Friday, September 13th for $2.99 per episode: http://www.talesfrombeyondthepale.com.
Last October, we actually staged these radio shows live at Dixon Place, bringing in a boat-load of actors like Sean Young, Mr. D'Onofrio, Mark Margolis, James LeGros, Michael Cerveris, Kate Lyn Sheil, Jonny Orsini and a whole lot more. It was pretty amazing to see live, but now Glass Eye has remastered the recordings and made them available for you to listen to in the safety of your own home!
The press picked up on the announcement. Here's what they have to say:
"Sean Young, Vincent D'Onfrio to Star in New Tales from Beyond the Pale Terror Tales," Entertainment Weekly: http://bit.ly/15cz9Qt
"All-Star Cast Headlines 2nd Season of Tales from Beyond the Pale," Movie Geeks United: http://bit.ly/15cyGxL
"Second Tales from Beyond the Pale Launches on Friday the 13th," Fangoria: http://bit.ly/15czAdt
Here's the rundown of the entire second season. Check out this awesome roster of writer/directors:
RAM KING by Joe Maggio (BITTER FEAST, MAN ON THE LEDGE)
LIKE FATHER, LIKE SON by Clay McLeod Chapman (HENLEY, THE TRIBE: HOMEROOM HEADHUNTERS)
STRANGER by Jeff Buhler (THE MIDNIGHT MEAT TRAIN, JACOB'S LADDER)
DEAD MAN'S SHOES by Ashley Thorpe (THE DEMON HUNTSMAN, THE HAIRY HANDS)
SARAH MINDS THE DOG by Kim Newman (ANNO DRACULA, NIGHTMARE MOVIES)
THE CRUSH by Glenn McQuaid (I SELL THE DEAD, V/H/S)
DEAD AIR by Simon Barrett (YOU'RE NEXT, A HORRIBLE WAY TO DIE)
CAPER by Larry Fessenden (BENEATH, THE LAST WINTER, WENDIGO)
August 26, 2013
Related:
Like Father, Like Son
---
"A deeply eerie and evocative portrayal of what it's like to stare into the abyss and find something there waiting for you. A memorable, disquieting ghost story about stories, rendered inside a Möbius strip."
— Kirkus