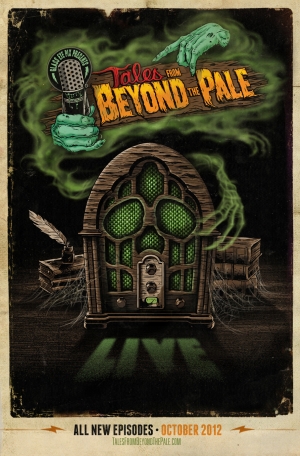 Awesome announcement time!
I can officially let the cat out of the bag on this one now… This October, I'm teaming up with Larry Fessenden and Glenn McQuaid from Glass Eye Pix to present the second season of TALES FROM BEYOND THE PALE, a series of spooky "radio plays for the digital age."
To push ourselves even further into the outer limits, we're putting together a LIVE show. Think of it as a Prairie Home Companion for blood-and-gut devotees. Eight spooky stories by top notch writers (plus, ahem, yours truly), performed onstage with foley sound FX.
Here's what Glass Eye Pix has to say:
"Glass Eye Pix, the fiercely independent film company behind STAKE LAND, THE INNKEEPERS and I SELL THE DEAD, in association with Clay McLeod Chapman's FEAR-MONGERS: FIRESIDE CHATS ABOUT HORROR FILMS, is taking its successful audio dramas TALES FROM BEYOND THE PALE out of the studio and onto the stage. A new twist on the vintage radio shows of yesteryear, Larry Fessenden and Glenn McQuaid's TALES FROM BEYOND THE PALE has already thrilled fans of the macabre with it's first season of creepy dramas released last year. Now they are upping the ante and recording 8 original audio shows before a live audience…"
Fangoria Magazine has already given us a little lovin' on the good news. Read all about it here: http://bit.ly/NuwOhB
We'll be presenting TALES at Dixon Place for the first four Tuesdays out of October, so mark your calendars! More details about the rest of our writers and performers to come. Until then… start saying your prayers, 'cause it's gonna be one hell of a Halloween this year. Muyahahahahaha!
TALES FROM BEYOND THE PALE: http://talesfrombeyondthepale.com/
GLASS EYE PIX: http://www.glasseyepix.com/?p=699
August 17, 2012
Related:
Fear-Mongers
---
"NYC's best (and only?) speaking series/live talk show on horror..."
— Fangoria Magazine