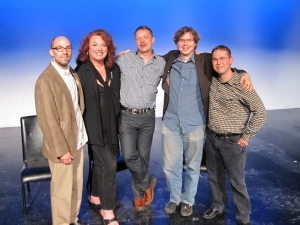 Probably the most integral component to any great talk-show is getting great guests. Line up the right roster and they'll make your job a hell of a lot easier. Thank God for my guests at our last "Fear-Mongers" event. What was the biggest boon, however, was how each of my guests went out of their way to turn our last Tuesday's show into a mega-event… Glenn McQuaid ("I Sell the Dead" and "V/H/S") made a special video-mashup of his favorite anthology horror films just for us. Alan Rowe Kelly ("Gallery of Fear" and "I'll Bury You Tomorrow") dissected the original "Dark Shadows" like we were in AP biology class. Rob Kuhns previewed the first fifteen minutes from his new documentary "Year of the Living Dead," focussing on the making of George Romero's original "Night of the Living Dead." And Mac Rogers (The Honeycomb Trilogy) schooled us all with his master-class on Wes Craven's "The Serpent and the Rainbow."
This wasn't just your run-of-the-mill geeking out… This was thesis work. This was a sharp intellectual eye turned towards a genre that deserves this kind of attention all day, every day. Because these guests… well, they really raised the bar. So thank you for all your hard work Glenn, Alan, Mac and Rob.
Click here for pics: http://on.fb.me/MOwuXu
Our next show will be in October… I can't say anything just yet, but we've got a surprise line-up for the Halloween season. This show's gonna be one for the history books, believe me. Check back here for updates soon enough!
June 24, 2012
Related:
Fear-Mongers
---
"A deeply eerie and evocative portrayal of what it's like to stare into the abyss and find something there waiting for you. A memorable, disquieting ghost story about stories, rendered inside a Möbius strip."
— Kirkus