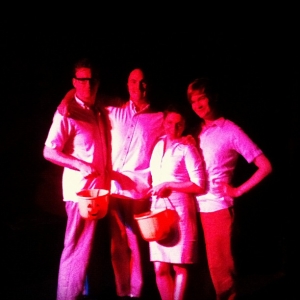 Woke up this morning to face some pretty intense winds outside our home. Sandy's a coming, and she's looking to be a pretty mean one.
But to be honest, I've been caught up in a whirlwind ever since Thursday… The Pumpkin Pie Show blew through town in a three-night blitz. We sold out each performance a couple days before opening night, which is unheard of. Still, more people came and we crammed everybody in. Fire marshal be damned!
Thanks to everyone for making this short run of The Pumpkin Pie Show an absolute blast. To everybody who shared the stage with me: Hanna Cheek, Abe Goldfarb, Kevin Townley and Brian Silliman—you guys were amazing, night after night. The sheer joy of watching you take these stories and lift them to a higher level… it was an absolute honor. Thank you.
To Erez Ziv and everbyody at Horse Trade, thank you for giving The Pumpkin Pie Show a home for over a decade now. Can't wait to do it again next year… See you all next Halloween! Same time, same place.
October 28, 2012
Related:
The Pumpkin Pie Show
---
"A deeply eerie and evocative portrayal of what it's like to stare into the abyss and find something there waiting for you. A memorable, disquieting ghost story about stories, rendered inside a Möbius strip."
— Kirkus