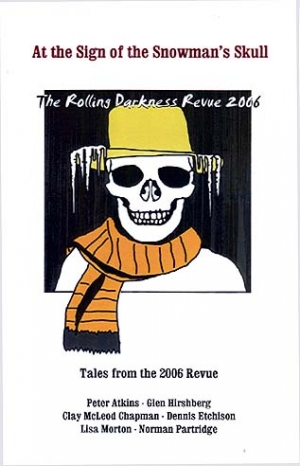 2006 Rolling Darkness Revue anthology
Tales from the 2006 Rolling Darkness Revue tour. Includes first-time-in-print stories by Peter Atkins, Clay McLeod Chapman, Dennis Etchison, Glen Hirshberg, Lisa Morton, and Norman Partridge. Published by Earthling Publications.
Perfectbound softcover containing stories from authors who toured with Rolling Darkness Revue in October 2006: Original tales from Peter Atkins, Glen Hirshberg, Clay McLeod Chapman, Lisa Morton, and Norman Partridge, and the first print appearance of a story from RDR alumnus Dennis Etchison. The bulk of the 250-copy print run was made available for sale at stops during the ROLLING DARKNESS REVUE tour; for those people who couldn't attend the shows, approximately 50 were available for sale directly through Earthling. The copies sold through Earthling were signed by as many of the contributors as possible; at a minimum by Rolling Darkness Revue co-founders Hirshberg and Atkins.
Features the short story "late bloomer" by Clay McLeod Chapman.