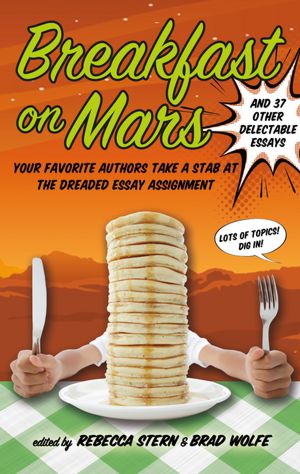 Events
Related Blog Post
Edited by Rebecca Stern and Brad Wolfe
Your favorite authors take a stab at the dreaded essay assignment!
This book came directly out of one teacher's experience in the classroom. Rebecca Stern's fifth grade students were bored to death with essay writing, and the one thing Rebecca needed to inspire them—great examples appropriate for kids—was nowhere to be found. Inspired by a challenge, Rebecca joined forces with her friend, social entrepreneur Brad Wolfe, and the two came up with a terrific proposal—gather together a collection of essays that don't suck by some of the best writers around, many of whom kids already love reading.
Essays by NICK ABADZIS, STEVE ALMOND, GIGI AMATEAU, KHALID BIRDSONG, STEVE BREZENOFF, CECIL CASTELLUCCI, CLAY MCLEOD CHAPMAN, LISE CLAVEL, JOE CRAIG, SLOANE CROSLEY, CHRIS EPTING, ALANE FERGUSON, ALAN GRATZ, MICHAEL HEARST, CHRIS HIGGINS, CRAIG KIELBURGER, SARAH DARER LITTMAN, JENNIFER LOU, MICHAEL DAVID LUKAS, WENDY MASS, MAILE MELOY, KIRSTEN MILLER, JOSHUA MOHR, MARY-ANN OCHOTA, SARAH PRINEAS, RANSON RIGGS, LENA ROY, MARIE RUTKOSKI, CASEY SCIESZKA AND STEVE WEINBERG, APRIL SINCLAIR, LAUREL SNYDER, ELLEN SUSSMAN, NED VIZZINI, SCOTT WESTERFLED, DAISY WHITNEY, RITA WILLIAMS-GARCIA, ELIZABETH WINTHROP
Featuring "Showering with Spiders" by Clay McLeod Chapman. Release date: June 2013.