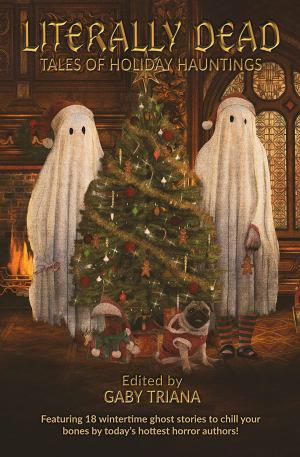 Ghosts of Victorian Christmases past. A witch's winter solstice ritual gone wrong. A psychic mall Santa who sees dead children. A spirit trapped inside a club bathroom on New Years' Eve. The perfect wintertime ghost anthology to follow up its predecessor, LITERALLY DEAD: Tales of Halloween Hauntings.
Edited by Gaby Triana, this 2nd-volume anthology of 21 short stories by some of the most terrifying names in horror is the perfect collection for a dark and snowy December night. Featuring tales to make you shiver by the Christmas tree by: Ramsey Campbell, Cina Pelayo, Lisa Morton, Stephanie Wytovich, Jonathan Janz, Hailey Piper, Clay McLeod Chapman, Chet Wiliamson, Zin E. Rocklin, V. Castro, John Palisano, and more.
Features the short story "psychic santa" written by Clay McLeod Chapman. On shelves September 14, 2023.