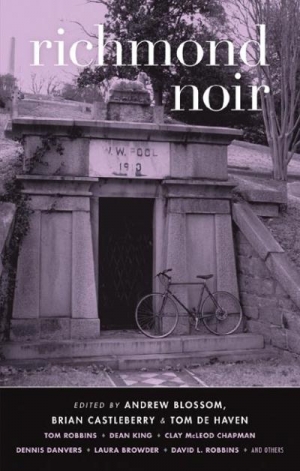 "...Like a hard blow to the reader's solar plexus."
– Virginia Living
Edited by Andrew Blossom, Brian Castleberry & Tom De Haven
Launched by the summer '04 award-winning, best seller Brooklyn Noir, Akashic Books continues its groundbreaking series of original noir anthologies. Each book is comprised of all-new stories, each one set in a distinct neighborhood or location within the respective city.
The River City emerges as a hot spot for unseemly noir…
With a forward by Tom Robbins. Brand new stories by Dean King, Laura Browder, Howard Owen, Yazmina Beverly, Tom De Haven, X.C. Atkins, Meagan J. Saunders, Anne Thomas Soffee, Clint McCown, Conard Ashley Persons, Clay McLeod Chapman, Pir Rothenberg, David L. Robbins, Hermine Pinson, and Dennis Danvers.
Features the short story "the battle of belle isle" by Clay McLeod Chapman.