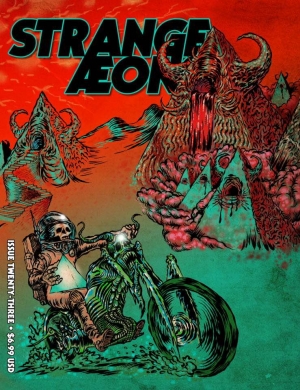 Amazing Stories. Bizarre Adventures. Weird Tales.
Strange Aeons has been described as the illegitimate love-child between Heavy Metal and Weird Tales! 64 pages of gorgeous B&W and Color Comics by Rob Corless, Eric York, and SA alumns John Fulton and K.L. Young! FOUR fantastic Fiction Stories by John C. Foster, Alan Baxter, Clay McLeod Chapman, and Brian Evenson! Articles, Columns, Reviews and so much more can also be found waiting inside! Our amazing cover is by our Head Art Creep, the one and only Nick "The Hat" Gucker! And as an added bonus we've included another collectible Art Card!
Features the short story "HOCUS FLOTUS" by Clay McLeod Chapman. Click here to purchase.