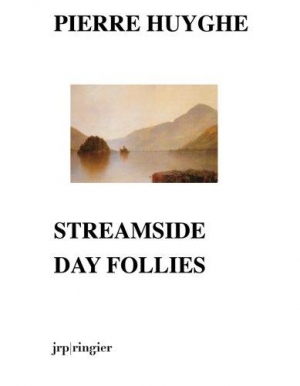 Pierre Huyghe: Streamside Day Follies
Pierre Huyghe is known for smudging the line between reality and fiction, intervening in familiar narrative structures to investigate the construction of collective and individual identities. His 2006 exhibition at Tate Modern in London included a film of his puppet musical on Le Corbusier's struggles with a commission from Harvard (and Huyghe's similar troubles at the same institution), and premiered work shot on location in Antartica and Central Park.
For the Dia-commissioned Streamside Day Follies, the basis of this publication, Huyghe invited the public to celebrate the founding of a new community, Streamside Knolls, in Fishkill, New York, with a parade, costumes, music, hot dogs, hamburgers, corn on the cob, pumpkin pies, ice cream, lemonade and green cotton candy. The resulting murals and short, fictional film refer back to a dizzying whorl of references including nineteenth-century utopian social projects, Hollywood films, Disney animation, contemporary writing and romantic landscape painting.
This book documents the project, and includes contributions by Tacita Dean, Rirkrit Tiravanija, Clay McLeod Chapman and Huyghe. Born in Paris in 1962, Pierre Huyghe has had solo exhibits at the Guggenheim Museum, New York, among others. In 2001, he was awarded the Special Jury Prize at the Venice Biennale.