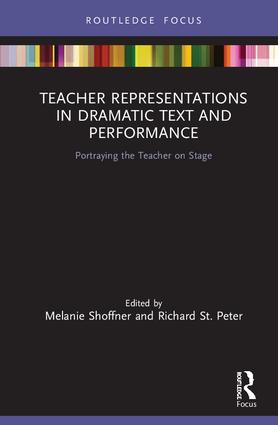 Portraying the Teacher Onstage, 1st edition, edited by Melanie Shoffner & Richard St. Peter
This book examines representations of the teacher on stage - in both theatrical performances and dramatic text - in order to demonstrate how these representations have shaped society's perceptions of educators in and out of the classroom.
At the heart of this book is the interaction between theatre and teacher education. By considering how dramatic portrayals reimagine, reinforce and/or undermine our understanding of the teacher's personal and professional roles, this volume bridges the gap between truth in dramatic literature and truth in the classroom. Chapters critically explore the personas embodied by fictional teachers in well-known works such as Educating Rita, School of Rock and The History Boys and illustrate how educators might use dramatic literature and performance to interrogate entrenched ideas about the student-teacher dynamic. By bringing together a diverse set of contributors from the fields of teacher education and theatre, this book takes a critical look at performance, text, and culture to promote a new understanding of teaching and learning.
This unique book will be of great interest to graduate and postgraduate students, academics and researchers in the fields of teacher education, drama and theatre education.
Includes foreword written by Clay McLeod Chapman. On shelves September 19, 2019.