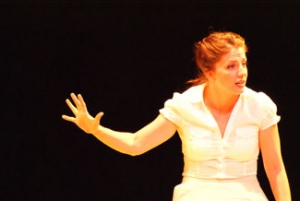 Last night's performance of COMMENCEMENT rocked so hard and hurt so many people, they've added a bonus show tonight! If you didn't catch it, you've got one more chance!
Commencement explores the lives of three women as they grapple with fear, grief and ultimately growth that comes in the aftermath of a tragic event. Hanna has performed this one woman show for years, touring throughout North America, culminating in a sold out run in New York. It's a dooooooooooozy.
Monday, May 14th—8 PM. FREE.
The Daniel Stern Studio: 2636 South La Cienega Blvd (btn Venice and Washington)
Share some wine, cheese and theatre. Space is limited so get there early!
"Commencement will leave you wringing your hands in helpless empathy."—SEE Magazine
Facebook invite: http://www.facebook.com/events/433573863339082/
May 14, 2012
Related:
Commencement
---
"A deeply eerie and evocative portrayal of what it's like to stare into the abyss and find something there waiting for you. A memorable, disquieting ghost story about stories, rendered inside a Möbius strip."
— Kirkus