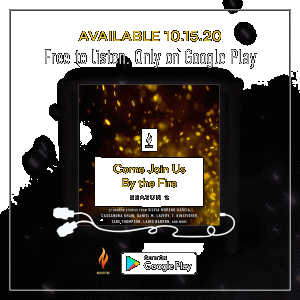 ​The news is out! Tor Nightfire announced their second season of "Come Join Us By The Fire," an audio anthology of short stories… And I'm in there! Not only did they include my spooky story "the fireplace," but they let me read it to! You can listen to it for FREE on October 15th. Find out all the gory details by clicking here. Check out this awesome roster of authors!
Cassandra Khaw, "Some Breakable Things"
Sarah Langan, "The Changeling"
Shaun Hamill, "Music of the Abyss"
Caitlín R. Kiernan, "Standing Water"
Tade Thompson, "Bone"
T. Kingfisher, "Origin Story"
Silvia Moreno-Garcia, "The Sound of Footsteps"
Laird Barron, "Jōren Falls"
Damien Angelica Walters, "Tooth, Tongue, and Claw"
Sunny Moraine, "If Living is Seeing I'm Holding My Breath"
Matthew Lyons, "Blood Daughter"
Jessica Guess, "Mama Tulu"
Daniel M. Lavery, "Prodigal Son"
Seanan McGuire, "Emergency Landing"
Indrapramit Das, "You Will Survive This Night"
'Pemi Aguda, "Things Boys Do"
Kelly Link, "The Specialist's Hat"
Clay McLeod Chapman, "The Fireplace"
Nibedita Sen, "Pigeons"
Camilla Grudova, "Ghost Bread"
Catherynne M. Valente, "The Days of Flaming Motorcycles"
Brian Evenson, "The Cabin"
Maria Dahvana Headley, "The Krakatoan"
Craig Laurance Gidney, "Spyder Threads"
Mariana Enriquez, "Things We Lost in the Fire"
Gabino Iglesias, "The Song of the Lady Rose"
Nick Antosca, "The Quiet Boy"
Stories are narrated by Fajer Al-Kaisi, Clay McLeod Chapman, Frankie Corzo, Deepti Gupta, JD Jackson, Daniel M. Lavery, Rich Miller, Greer Morrison, and Natalie Naudus. Produced by Steve Wagner, with sound design by Sal Barone, Patrick Smith, Ethan Donaldson, and Steve Wagner.
September 17, 2020
Related:
Come Join Us By The Fire
---
"A deeply eerie and evocative portrayal of what it's like to stare into the abyss and find something there waiting for you. A memorable, disquieting ghost story about stories, rendered inside a Möbius strip."
— Kirkus