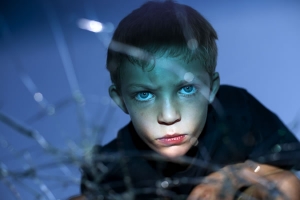 Earlier this week, Deadline reported in an exclusive that Elijah Wood has partnered up with Daniel Noah and Josh C. Waller to form The Woodshed, an indie production company whose sole goal in life is to make some of scariest horror movies you'll ever see.
Looking over their slate of upcoming productions, I believe them. Read the full article at Deadline here: http://bit.ly/O2H5AX
But the real jaw-dropper: On their roster is none other than a feature length version of our very own HENLEY, written by myself and director Craig Macneill. It's based on our 2012 Sundance-selected short, which was based on the chapter "The Henley Road Motel" from my novel MISS CORPUS. For the short, we focussed on the first half of the chapter and its major players—so when it came time to start developing the feature-length script, Craig and I went back to "The Henley Road Motel" and essentially picked up where we left off, expanding on the world we had started to create. And for anyone who's read MISS CORPUS (all three of you), you know it doesn't end well.
This project has been in the works since January. We've been working on the script while trying our hardest to keep mum about the good news. Do you know how tough it is to keep something like this a secret? Good news gnaws on your insides. Bottling up good news causes awesome-ulcers. But now that Deadline has broken the news, we can shout it from the mountaintop…
More HENLEY is coming your way. Two hours more. You've been warned.
Here's what Deadline had to say:
"On the production side, Woodshed gets underway with… Henley, a feature transfer of the 2012 Sundance short written by Clay McLeod Chapman and Craig Macneill. Macneill will direct and Noah Greenberg is producer as well as cinematographer. The film is described as an intimate portrait of a 9-year-old sociopath as he first discovers his taste for killing."
October 3, 2012
Related:
The Boy (feature)
---
"A deeply eerie and evocative portrayal of what it's like to stare into the abyss and find something there waiting for you. A memorable, disquieting ghost story about stories, rendered inside a Möbius strip."
— Kirkus