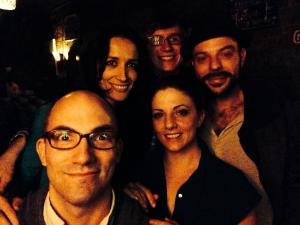 The Pumpkin Pie Show: BOOGEDY BOO officially wrapped up last night. Three weeks, nine performances and a lot of new faces in the audience. This was our (more or less) 15th year of performing the Pumpkin Pie Show. Fifteen years. We. Are. Old. The reviews for this year's show were great. Thumbs up all around. Here's a round-up of what folks were saying about us:
Time Out NY's BEST BETS for Off-Off Broadway (Oct 10th-16th)
"The Pumpkin Pie Show: Boogedy Boo" serves up a big, fat, delicious slice of good old-fashioned Grand Guignol with a dash of Southern Gothic thrown in."—StageBuddy (http://bit.ly/167dBGx)
"Provocative, entertaining, and beautifully staged… with enough social realism to make (these stories) unsettling."—Theater Is Easy (http://bit.ly/18YZRAV)
"Stories are such an integral part of our personal development as well as our cultural integration… So it's wonderful to have the storyteller right there, making eye contact, breathing the same air, inviting you in to their minds for a few minutes of – in this case, creepy – shared experience."—Woman Around Town (http://bit.ly/17CVesD)
The Pumpkin Pie Show "will leave you horrified, aghast, and titillated in places you didn't even know were possible… The ultimate Halloween celebration."—NyTheaterNow. (http://bit.ly/1bSGWN1)
"Sick genius Clay McLeod Chapman returns… joined by the incomparable Hanna Cheek… Two stellar newcomers join Chapman and Cheek this year: Ana Asensio enthralls with a tale of haunted hair extensions while Shayfer James' gothic cabaret musical interludes perfectly accentuate the creepy yet fun vibe."—Flavorpill (EDITORS PICK) (http://bit.ly/19Jq1Vp)
The Pumpkin Pie Show is "carried brilliantly" by Ana Asensio, Hanna Cheek and Clay McLeod Chapman. Cheek is "seriously screwed up." Chapman is an "adrenaline pumping host… The perfect way to get some intimate, underground (literally) scares for Halloween this year."—Times Square Chronicle (http://bit.ly/GYgraV)
The Pumpkin Pie Show "...will put images in your head that will be hard to forget without a happy movie afterwards. This show is a must see."—Manhattan With A Twist (http://bit.ly/15ISZrb)
The Pumpkin Pie Show "...looks at the sort of real-life monsters that live among us."—Theater for Nerds (http://bit.ly/17i0UyQ)
"Clay McLeod Chapman knows how to tell a story that will have you screaming like a banshee—with laughter, that is."—New York Amsterdam News (http://t.co/l6Dg6xQZ0u)
"...Mixes creepiness, outlandish humor and the ghastly distasteful."—Arts & Leisure News (http://bit.ly/1cpOjYS)
Vaude Visuals snapped off some action shots of The Pumpkin Pie Show: Boogedy Boo. Check them out: http://bit.ly/1cgadOf
Special thanks to Hanna Cheek, Ana Asensio, Shayfer James, along with Erez Ziv, Emily Owens, Caitlin Kelly, Harrison Adams and everyone at Horse Trade who made this show possible. We couldn't have done it without you!
October 27, 2013
Related:
The Pumpkin Pie Show
---
"The filmmakers take on this fascinating subject is not only bold and honest, it is also utterly hilarious, thanks mostly to the deliciously creepy voice-over work of screenwriter Chapman. ...Chapman sounds like a deranged poet who's clearly spent too much time studying that other Lovecraft while in the asylum. His fevered hysteria... rivals that of the great Gene Wilder for sheer simulated delirium, a true spectacle indeed. "
— Film Threat