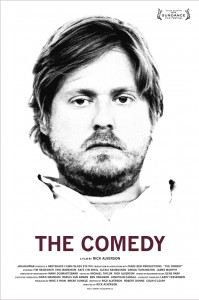 Confession: I'm a big fan of "Tim & Eric Awesome Show, Great Job!"
So. When I found out that our short film HENLEY would be screening directly before Rick Alverson's new feature THE COMEDY, starring none other than Tim Heidecker and Eric Wareheim, at the 19th Annual James River Film Festival, I got a little, you know… pants-poopy about it.
It's not like either of them will be at the screening. Probably not. Of course not. Right? But this is as close to Tim and Eric as I'm ever going to get. I'm feeling a little bit like "The Six Degrees of Icarus Bacon" flying too close to the sun here. Or something like that. You know what I'm talking about.
Here's a synopsis for the double-header of HENLEY and THE COMEDY at the James River Film Festival website: http://bit.ly/He1n11
Rick Alverson is from Richmond. I'm from Richmond. His movie played at Sundance this year. My movie played at Sundance this year. Now both of our films are screening back-to-back in Richmond together.
See how that all came full circle? I'm just about one degree away from touching Tim & Eric… A boy can dream, can't he?
April 3, 2012
Related:
Henley (short)
---
"A deeply eerie and evocative portrayal of what it's like to stare into the abyss and find something there waiting for you. A memorable, disquieting ghost story about stories, rendered inside a Möbius strip."
— Kirkus