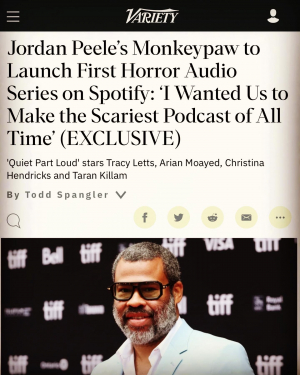 ​So… The word is out. Surprise! Jordan Peele and Monkeypaw Productions presents QUIET PART LOUD, a 12-part horror podcast series with immersive audio and sound design, written by me and Mac Rogers, exclusively on Spotify 11/15. This show truly redefines the term 'earworm.' It stars Pulitzer-winning playwright/actor Tracy Letts (Bug), Christina Hendricks (Mad Men), Milly Shapiro (Hereditary), Taran Killam (SNL), Nikohl Boosheri (Altered Carbon), Arian Moayed (Succession) and so many more. Hearing Tracy Letts perform monologues I wrote is an absolute career highlight…
The story is all about a deplatformed conservative radio personality who uncovers a supernatural conspiracy that nobody believes… Mac and Me have been working on this since March 2020 (cough, cough) & nobody is ever going to believe we wrote it prior to… well, everything.
The series was directed by the astonishing Mimi O'Donnell and pristinely assembled by Gimlet Productions. Immense thanks to Jordan Peele, Win Rosenfeld, Geoff Foster, Amy McLeish, Jasmyne Peck-Bailey and everyone at Monkeypaw Productions for letting Mac and Me run wild with this epic horror tale. Working on this series with Mac Rogers and everyone else has been a feverish dream come true. We got to tell a truly frightening story, with or without sonic parasites, with the full creative support of MonkeyPaw, Gimlet and Spotify. You're not ready for this show. It burrows in your brain.
QUIET PART LOUD. A MonkeyPaw Productions podcast. Written by Mac & Me. Directed by Mimi O'Donnell at Gimlet. Exclusively on Spotify 11/15/22.
November 10, 2022
Related:
QUIET PART LOUD
---
"Utterly brilliant. "
— Geek.com