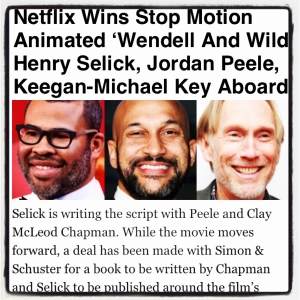 The cat is officially out of the bag, thanks to Deadline Hollywood… There are two demons I'd like you to meet.
"Fresh off winning the Best Original Screenplay Oscar for his directorial debut Get Out, Jordan Peele is at the center of a most intriguing feature re-team with Keegan-Michael Key, his longtime partner on the Emmy-winning Comedy Central series Key and Peele. Netflix has committed to finance and distribute Wendell And Wild, a stop motion animated feature to be directed by James and the Giant Peach helmer Henry Selick. Key and Peele will supply the voices for two scheming demon brothers…"
Read a little further down and it says: "While the movie moves forward, a deal has been made with Simon & Schuster for a book to be written by Chapman and Selick to be published around the film's release."
I have died and gone to hog heaven. Our work is just beginning, but it's super exciting to finally be able to share with the rest of the world. More to come, soon enough. You can read the full article at Deadline here.
March 14, 2018
Related:
WENDELL & WILD (novel)
---
"Junta High is not metaphor, but something akin to Brecht's alienation effect: a fresh light that forces you to read in a new, left-field context the bloody international headlines that have grown dull with repetition. "
— Time Out New York